Welcome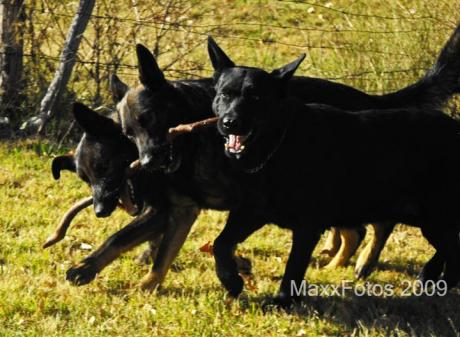 Our guarantee to our dogs and pups: We will be there for them any Time, any age, any reason they can return home.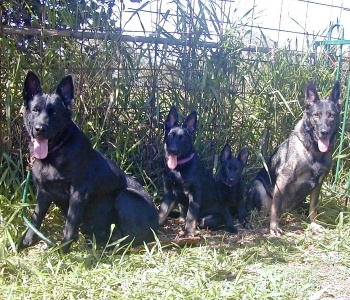 Welcome to Vom Sirius.
We are working line German Shepherd breeder located just behind Brisbane in Mt Tarampa QLD, With both puppies and sometimes adult dogs for sale, we are family based and our dogs either live with us or in loving family or working homes, they are active stable well socialized dogs that enjoy spending time with us both in our home and out on the property.
Our girls have very select blood lines that have taken me years to put together, including line breeding on FAX VOM GRENZGANGER SCH3 and STORMSFRONT BRAWNSON and old working lines like Vonforell Whiskey and Vonforell Bodo .We search everywhere to find exactly the right dog or semen to produce what we are looking for in our pups. More recently we have added lines from over seas, such as Optikas Diesel,Xamm von der Daelenberghütte and Xamm vom Oxemberg to our lines and have been very pleased with the results.
Years ago I fell in love with a beautiful black girl name Vonforell Aria, she turned out to be a fantastic dog and is mother to my current personal protection dog Vonforell Xaria. A few years later I was given a bitch (Uzi) from the fantastic combination of MPD Fraia (Vonforell Whiskey X Vonforell Bodo) and FAX VOM GRENZGANGER SCH3. Uzi was a dog that I will never forget, perfect family dog, fearsome protector and everything I could want in a dog - however, having come from the RAAF, she was desexed and I was unable to breed with her. So, after countless requests for puppies from her, I decided to look into producing a similar dog and a life time commitment was made to improve the breed and strive always to produce a true working dog stable enough to also be a family dog.
I aim to breed a top quality pups that are stable, confident and alert family protectors and sport/patrol/service dogs as well as assistance dogs,with the stunning conformation looks and temperament our pups are known for.
All our dogs love to be involved in obedience, protection, detection, agility, lure coursing - and anything else we can think of.