Dog Profile
Vonforell Unka(3:3 hips 0:0 elbows)
Finn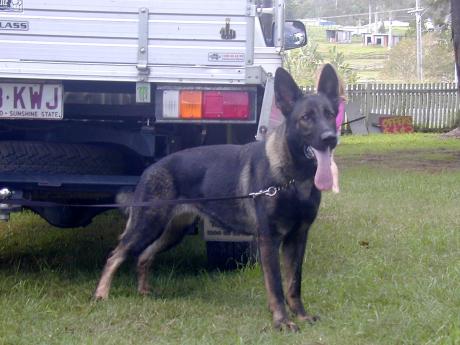 BORN


Jul 11, 2007
Finn is a a 40kg black sable bitch, She is good in a social setting, while still being very alert and ready to switch on and confront a stranger or threat.
She is highly prey driven and will excel in any application.
Whilst she is still only young with minimal work, she has already shown great potential, and she has already produced pups with better traits than herself
When doing off lead bite work she hits like a freight train with a full solid grip.
This bitch has incredible dogs in her pedigree thru her dam Vonforell Matra and her sire Vonforell Aero
Including but by no means limited to; the incredible SG Hassan vom Grüntal SCHH1 , Vonforell Wynn, Asa vom Haus Gebets, Kuran van Tiekerhook, Von Hargadain Bali, and Vonforell Vocho.
She will make a great asset to our future breeding program.
Finn is in training for serious personal protection work and we hope to start either search and rescue or detection with her shortly.
Pedigree
Vonforell Aero
Vonforell Vocho
Kuran van Tiekerhook
Vonforell Pamela
Von Hargadain Bali
Asa vom Haus Gebets
Gina vom Wimbachtal
Vonforell Matra
SG Hassan vom Grüntal
Veith vom Haus Iris
Arit vom Schlegelsberg
Vonforell Derby
Vonforell Wynn
Vonforell Tascha