Stud Dogs Used
Alpine Base Otello demonstrates all the great qualities of an old world German Shepherd. He is very similar in build and power to his Sire Baron He shows extreme loyalty and a very strong, fierce working drive. He is very intense in his work and has a TON of strength, but is also very loving and loyal to his handler & family at home.
He has incredibly large, solid bones, sturdy frame at an athletic 52 kg. He has ALWAYS exhibited a full hard grip. Otello is very consistent and dependable in his work. Most importantly, he is STABLE. Training has come very naturaly for him. He is a dog that wants to work.
​Anyone that has worked Otello has highlighted his strength, very solid and thick build, fast speed and 100% FULL grips!
http://www.pedigreedatabase.com/german_shepherd_dog/dog.html?id=724718-alpinebase-otello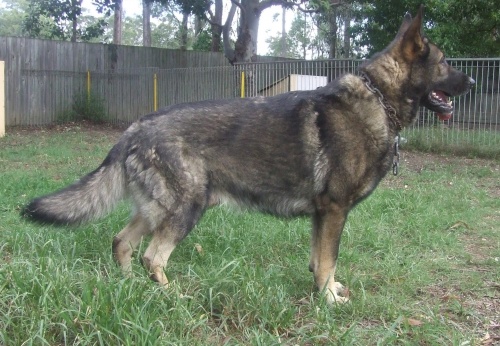 Alpinebase Otello
A big thanks to his owner for letting us use wolf in our breeding program
---
Vonammerberg Drago(Arkie)
Arkie is from 100% Working Lines and is a pure Black German Shepherd who has a large head, excellent bone structure, incredible drive and strong aggression with outstanding hardness. He is currently being used as a Working Security Dog and is an excellent Tracking Dog who has found all offenders. Arkie has been tested by several trainers from around Australia with resounding results. Arkie is the Grandson of the remarkable Fax Vom Grenzganger whom he shares many physical traits with.
Arkie has been Hip & Elbow scored and has a score of:
Elbows: 0:0
Hips: 3:3
http://www.pedigreedatabase.com/german_shepherd_dog/dog.html?id=624708
A big thank you to Black Viper German Shepherds
http://www.blackvipergermanshepherds.net/ for the chance to use Arkie in our breeding program
---