Dog Profile
Vonforell Aria
Aria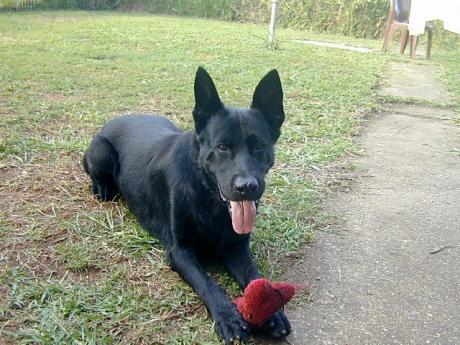 BORN


Nov 16, 2000
Aria is a combination of the oldest working bloodlines that consistently produce the most powerful dogs (physically and mentally) and heavily carries the lines of Quai v. Baruther Land, Held v. Ritterberg, Grand v. Ritterberg, Ingo v. Rudingen, Burga v Haus Himpel, Arko Honest, and Dolf ze Zakovy hory; incredibly, all within the first four generations.
She was an extremely driven bitch, but was easy to live with and she was happy to run with other dogs both male and female. She never got the chance to be a working dog but I believe with some early training she would have been an extreme working dog (as her daughter Xaria is proving to be).
We were only lucky enough to have Aria come live with us for the final years of her life she was a wonderful bitch and is sorely missed
Siblings: Abra / Amber.
Linebreeding: 5, 6 - 5...............Ingo v. Rudingen
Aria's mother, Bella vom Rosenzweig, was imported into Australia in pup and produced 3 beautiful pups - Aria, Amber and Abra. It took me 6 years to talk her breeder into letting me have her and I loved her till the day she died. While I had her she was mated to Shutzshep Jinx producing just the one pup - my girl Xaria.
Pedigree
'00&'02 WPO CHAMPION
Stormfront's Brawnson
SG Arko Honest CS
Astor vom Waldidyll
V Dita od Dvoch bratov
Maja vom Fuchsgraben
SG Dolf ze Zakovy hory
Hera vom Fuchsgraben
Bella vom Rosenzweig
Quark vom Schutzengel
Roy von der Müritz
Rona vom Hexenkeller
Annah vom Haus Gebets
Candy von der Knappenmuhle
Kanzi vom Schutzengel